ALL-IN-ONE SOLUTIONS FOR REAL ESTATE
ALL-INCLUSIVE
OPTIMA-CRM LICENSES
Accessing Optima-CRM requires a unique user license for audit trail purposes. There are a variety of license types, depending on usage. Your internal staff uses what we call "normal licenses". External people having specific accesses to your CRM (e.g. maintenance people, vendors, clients, portal users, etc.) are different types and have other price levels.
Pricing goes in scales, whereas the larger number of users result in lower cost per seat. There is already a user for only 75 € (or 98 USD) per month. 5 users are available for only 250 € per month. Ask about pricing for your team!
All modules & functions included
iOS & Android app included
Support online & by phone included
Training included
Flexible & intuitive tools for your entire team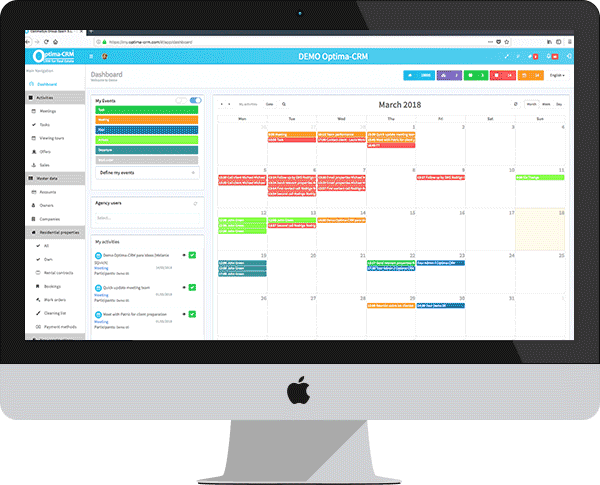 WEBSITE PROJECTS
Do you need advice on what's the best decision for you?
Our consultants provide a free assessment for your web project and apply our website calculator to give you a transparent view on the the options and components of your future website.
Websites are delivered in the shortest possible time, depending on its complexity and your capability to make timely decisions.
The statistics here show you on average how our clients tend to proceed:
Clients who take advantage to upgrade to a new website
Clients who choose a 100% new custom design from scratch
Clients where we also provide SEO services
Clients where we host their website
Kind words from our clients about our services & Optima-CRM solution.
Alexis Aparicio
Business Owner - Love Spain
Your CRM is up there with the big names like Salesforce, but then much better adapted for Real Estate...we're impressed!
Jonathan Rosales
Technical support Livingstone Estates
A reaction to our support: "Thank you, now looks great, also thanks for fix it on a Sunday. Awesome support!"
María Peral
Project Manager
Refreshing to work with a company and software who really fit our needs, adapts where we need, and delivers each time as promised. Being attended in our language is a plus too!
Neil Cockings
Owner - Keystyle Properties
12 months on from our registration to use the unique Customer Management System (CRM) provided by Optima-CRM which gives us full control of our Properties either for Sale or rental and allows us to successfully match our searching buyers to their desired requirements in a property Keystyle took the next step with Optima Team in building their new Website in the fastest coding available thus ensuring a greater user experience. Being a perfectionist for Detail and Functionality along side their developers they have surpassed our full design brief.
Janine Dove
Owner - Luxury Bargain Villas
Thanks for your rapid and professional way of implementing my new website and CRM. Whilst others would have taken months, you helped us to go live in one week. I'd happily recommend you to anyone who needs a quick and excellent service.
Maribel Gomez
Sales Manager
By far the most intuitive solution while being complete. So complete that we use so far only a part of it but expanding our business, surely other modules will become instrumental for us soon!
Mario Verbiest
General Manager
We're truly happy with the solutions OptimaSys provides us with and the support & attention we are given. In our business, being able to count on our partners is essential and we can genuinely recommend Optima-CRM and supporting services to any business taking themselves seriously.
Ask your questions

How can we help you?
If you would like to schedule a free demo, just let us know when works best for you: