Two of the most asked questions we receive from people who haven't yet seen our CRM are...
"Why is Optima-CRM the best real estate CRM?"
(voted Top 10 best CRM solutions of 2018 by MirrorReview)

"What makes Optima-CRM stand out from the rest?"

The answer is easy yet not a short one...as Optima-CRM is such a complete solution that we need to sum up some of the key characteristics and features here below.
The challenge we give you is to find any solution that comes even close to the rich functions and practical solutions provided in our solution!
With Optima-CRM you can handle ANY type of Real Estate. Our solution gives you access to all of them yet you decide which you use and show to your users. Personalisation is key for any productive solution.
Residential

Commercial (e.g. commercial centres, shops, hotels,…)

Industrial (e.g. warehouses, offices, car washes,…)

Buildings and packaged properties

Land (including full classification details & project information)
We'll show you how we deal with these Real Estate types during the all-free personalised demo. Get yours now!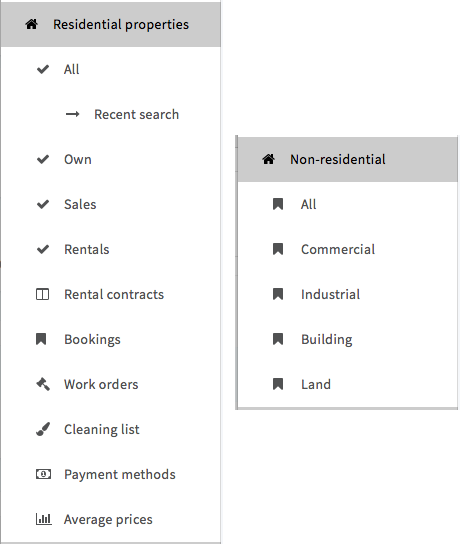 While most Real Estate Software systems only deal with the 'simpler' transaction types that sales and long term rentals are, Optima-CRM includes a full Holiday Rentals solution with sophisticated bookings module and all you need for maintenance and cleanings to be handled.
Sales of second hand (resales) & new construction (management of projects per phase)

Long term rentals with contracting

Holiday rentals booking system, including maintenance and cleanings
Whichever types your company handles, rest assured that Optima-CRM does it the best way possible!
Holiday rentals bookings: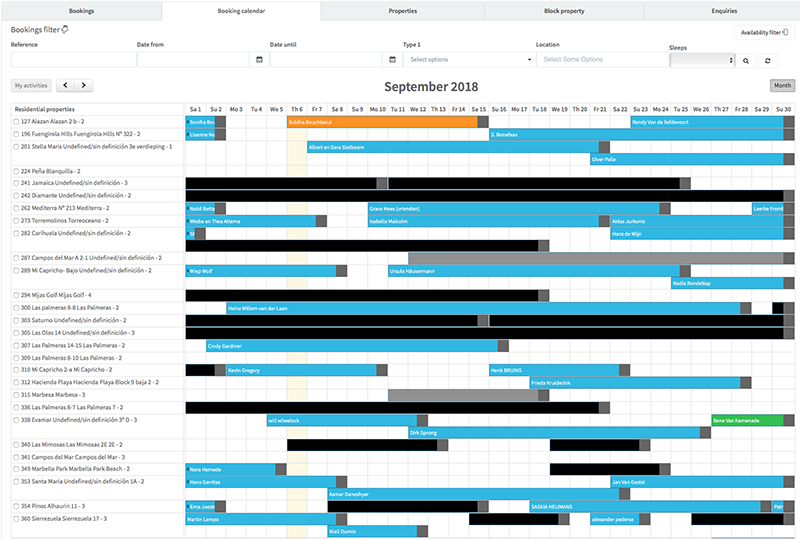 Manage your own inventory of listing as well as those of other agencies which you can freely import using standard XML imports.
Create an unlimited amount of properties, photos & documents

One property record can at the same time be for sale and for rent

Upload images in original format without having to reduce sizes
Creation of virtual tours in CRM (natively integrated in CRM)
Completeness of properties indicated by traffic lights logic
Marketing statistics (basic information, completed visits and results of questionnaires, publications on portals and their enquiries, ...), downloadable in PDF format + available in real time on the web (password protected)
Average prices statistics per m2 for properties for sale, long term rentals and holiday rentals in specific zones and for specific property types
Management of all SEO elements (SEO tags such as titles, descriptions, keywords, permalinks, ALT tags in photos…) in whichever language
Management of real and alternative latitudes/longitudes in maps
Search properties drawing polygons on Google Maps
Virtual tours creation: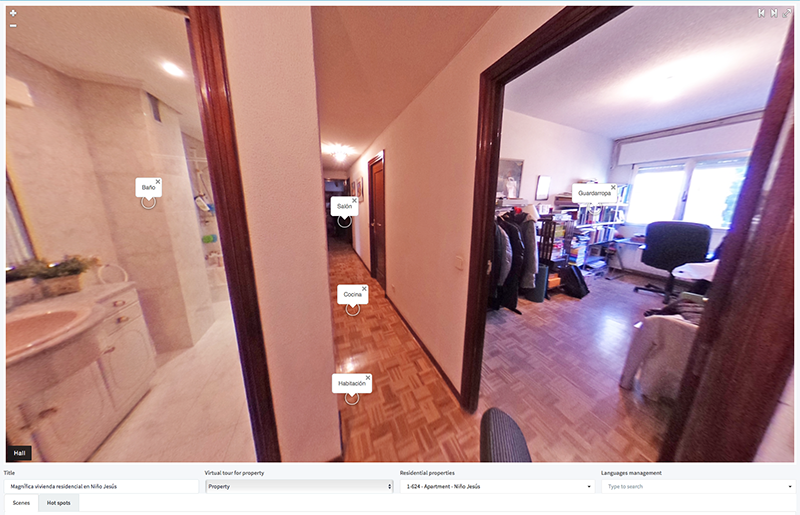 Exporting properties automatically to portals is what more systems do, however it's not only to which portals a system exports, it's far more about how it generates automatically leads coming from enquiries in these portals.
Connection to the most important portals of Spain and international ones (40+)
Bi-directional connection: leads are created automatically in CRM for each enquiry received from a portal (same method as when coming from website)
Furthermore we have created an XML generator and can quickly connect to any new portal of your needs!
Some examples of portals we connect to: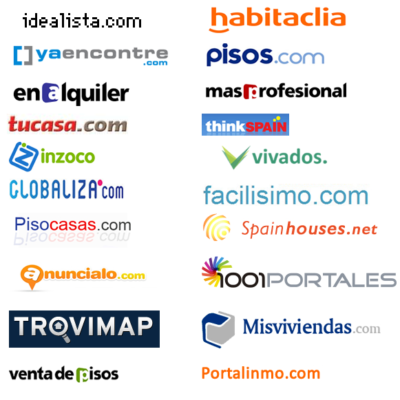 Under clients we classify all kinds such as candidate-buyers & renters as well as potential or existing owners.
Automatic creation of leads initiated in portal or website enquiries
Grid view to quickly access all clients user is entitled to access, to update any information like the client's profile etc. without the need to navigate to other pages
Definition of where the client is looking via drawing polygons on Google Maps
Data crossing in real-time between the client's profile and the available properties for all possible transaction types
Timeline to visualise and quickly access all actions that happened between the agency and the client (notes, visits, tasks, meetings, emails, calls, messages,…) and the possibility to update and add activities in real-time
Compliance with the new GDPR rules to prevent that emails are sent to persons who have not approved receiving messages
Clients management control panel: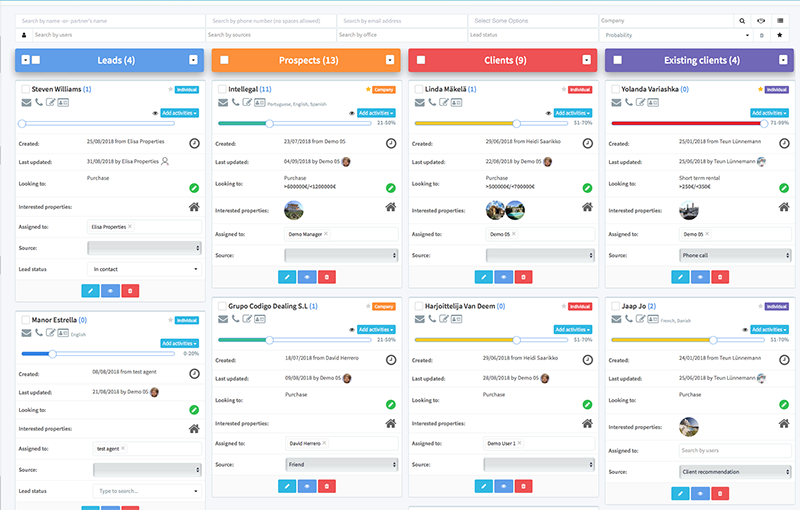 Being in charge of every step of the process gives you full control and statistics about the performance of your team and individual agents.
Creation of purchase offers documenting the interactions between seller and buyer

Sales creation and step-by-step follow-up with automation of sales steps through post-sales
Contract generation of offer and sales forms
Automation of processes via event sequences accelerates your teams and ensures that all required activities are executed timely!
Offers process: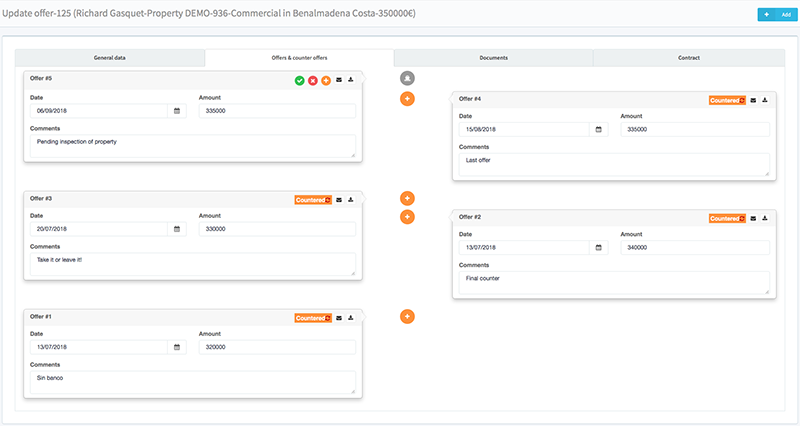 Optima-CRM gives urbanisations a new dimension as it allows you to organise your listing agents' work by assigning them via drawing on maps.
Management of all data types: sold properties, offers, rentals, quantities and types of properties, visits,…
Assignment of urbanisations to listing agent by drawing in Google Maps
Types: residential, industrial park, building
Create as many urbanisations as you need, allocate properties to them and follow-up on all the viewings, offers and sales related to properties belonging to them.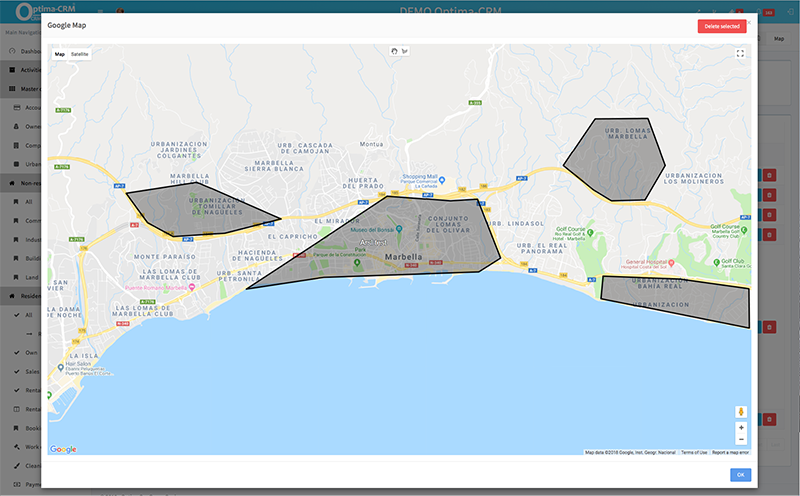 Your website is the first impression a future client gets from your company...make it count! You only get one chance to make a good first impression.
Connect CRM to as many websites as desired
Content Management System (CMS) integrated in CRM
All contents and translations are 100% updatable from within CRM
Properties & projects shown in web update in real-time
Modern and editable website models available
All SEO fields are available for all pages & blogs to place SEO titles, descriptions, images and keywords to optimise the organic positioning in search engines
Hybrid technologies joining latest technologies while maintaining compatibilities with older browsers and SEO requirements
Available financing to spread investment over 24 months
We believe that every company is unique and that websites must express this unique character. Don't fall for the cheap templated websites as they also look like cheap and templated sites...hence it impacts your reputation even before you had contact with the visitor!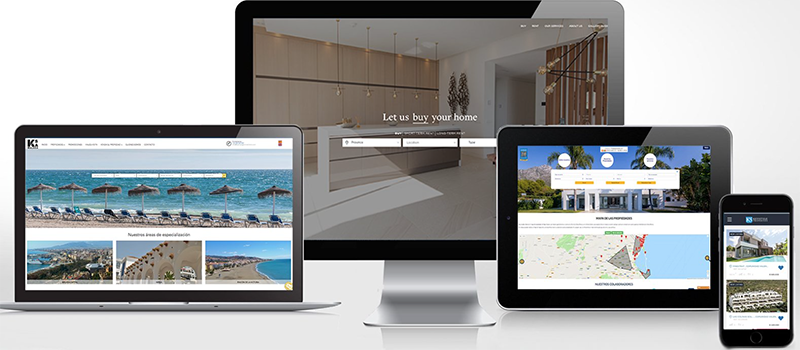 Making your day-to-day work a lot easier with the available professional templates in addition to the ones you can make yourself for your teams.
Over 35 WINDOW CARD templates adapting to languages, transaction types, with editable images & contents
Use & creation of EMAIL templates using short-codes to enable values to auto-fill
Use & creation of CONTRACT templates using short-codes to enable values to auto-fill, for usage through CRM is a varied ways
Generation of LANDING PAGES based in a variety of available templates, fully personalisable and optimisable for SEO
Templates can be made in any language and assigned to many different elements in CRM.
Large selection of Window Card templates: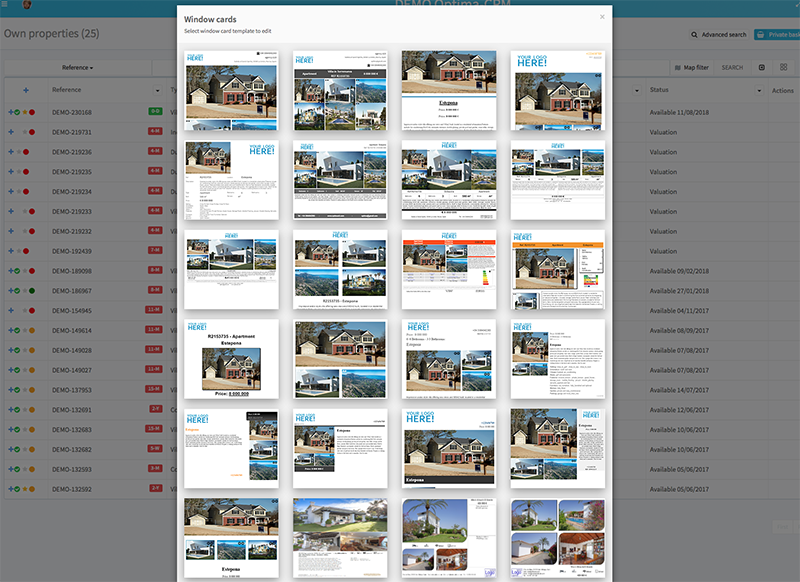 Real-time statistics and operational reports enable you to know at any time where you are with your business.
User performance

Pre-sales / telemarketing performance

Holiday rental reports (internal & external)

Sales reports

Clients acquisition report

Property statistics in real-time

Portals performance report

Custom reports are created for our agencies
No extra charges exist for us to build you custom reports!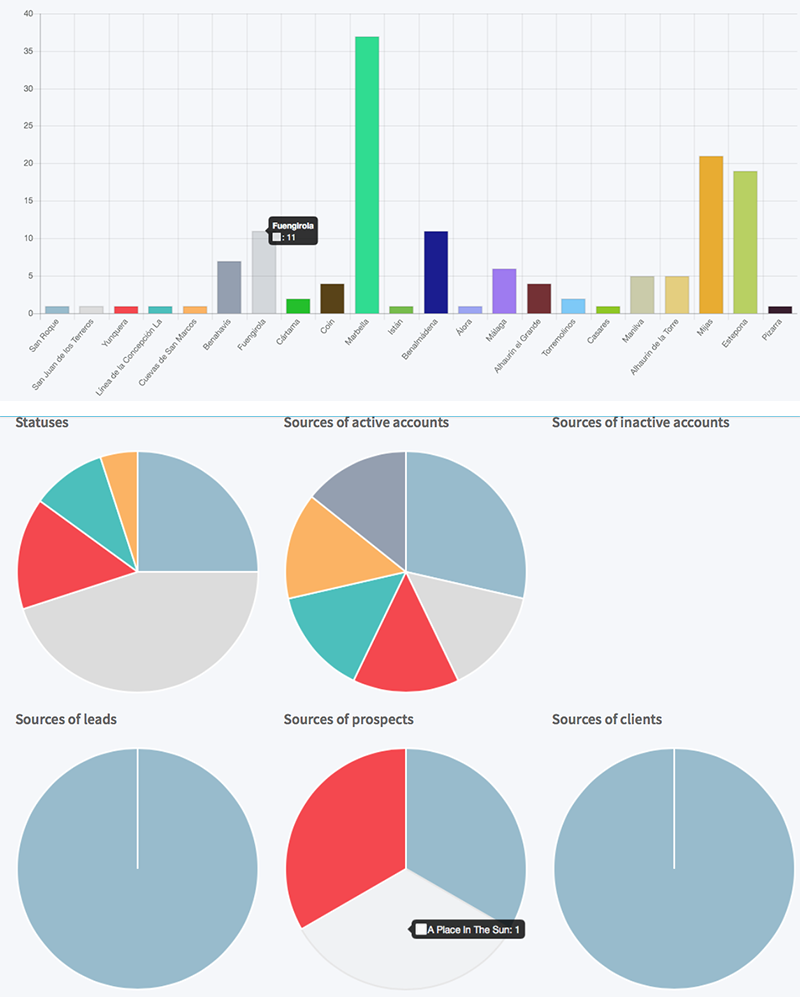 Wherever we can automate tasks for you, we do. We herewith help you remember things, avoid many potential mistakes, and save you precious time to do the more important things!
Sequences: automatic generation of series of activities based in a variety of events happening in the agency (addition of a client, a property, a sale, a rental,…) + management & follow-up of the activities related to each event
Automated email notifications managed by the notifications manager
Reminders of activities inside and outside CRM
Automated emails to owners: announcements of planned visits with clients, comments and results of questionnaires sent to provide feedback in real-time
Automated email alerts for clients: announcing new property listings that comply with their search profiles
Graphical dashboard to manage activities (tasks, meetings, viewings) on any given day for own or other user(s)
Integration with Google Calendar and Outlook Calendar
Let CRM do the heavy lifting for you!
Activities automation: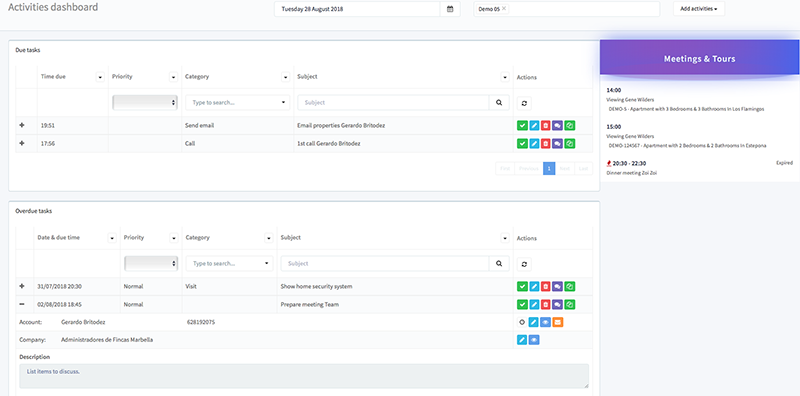 You and your business are unique...hence we created a solution that you can mold to who you are. Make CRM yours completely!
Exclusions of geographic elements (countries, regions, provinces. cities, locations) while the properties remain in the database accessible to the administrator yet hidden for the other users
Exclusion of property types that are of no interest to the agency
Qualification process definition for both potential clients as owners (leads)
Personalisation of many tables (e.g. building styles, document types, meeting types, client sources, etc.), add or remove content languages, etc.
Creation of Location Groups for personalised commercialisation purposes
Individual user personalisation settings (e.g. CRM language, number of results per page, default views for

dashboards and presentation of properties & clients, email signature, behaviour of notifications, holiday calendar, etc.)
Learn more about personalisation during a live demo!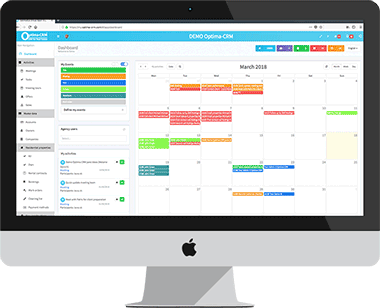 Whether you are an existing franchising business or aspire to build out one, whether you operate with a single office or have multiples, physical ones or virtual ones, we got you covered!
Management of franchising hierarchies
Management for agencies with multiple offices and corresponding authorisations
Flexibility in your current and future environments!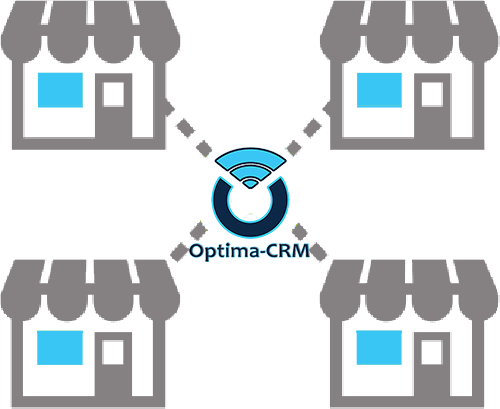 Multiple Listing Systems are plenty, yet few allow you the flexibility and personalisation as the Optima-CRM one.
Multi-level sharing of properties and projects with other member agencies
Creation of private MLS networks
Import from any external MLS network
Besides our internal MLS, you can import properties from ANY source and MLS!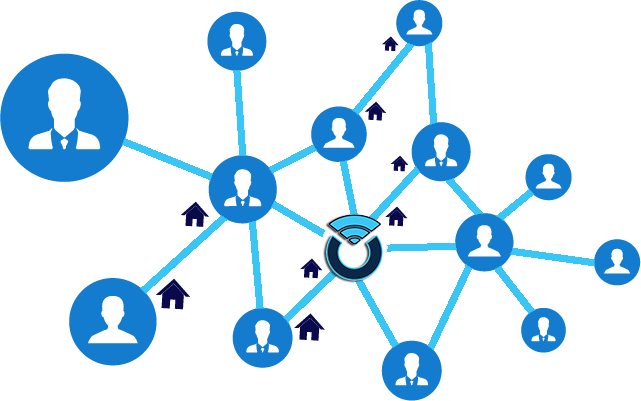 The only thing you need is an internet connection and you connect with the devices of your preference wherever you are.
Accessible from any device and any location: computers, tablets, and smartphones (native app)
Advanced user experience thanks to advanced technologies (drag & drop elements, independent data refresh without the need of page refreshing, fast speeds,…)
All functions you need are always with you wherever you go!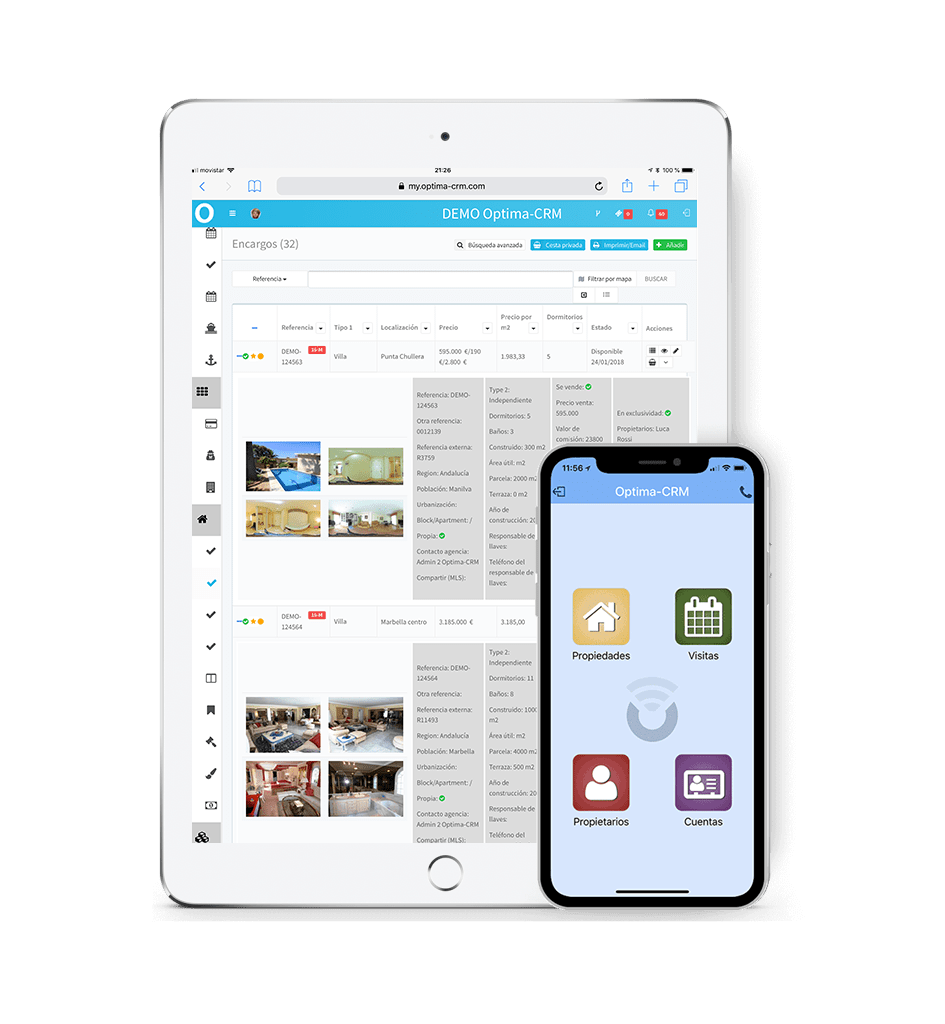 Yes...there's also an app for your preferred management solution!
Native app optimised for iOS and Android
Consult data of clients and owners where user has access to
Update viewings in real-time (generating possibly automated emails to owners)
Management of tasks and meetings on the user's calendar
Creation of properties in real-time from the smartphone, including images

The app is smartly made for smartphones so smart agents save time and always have with them what they need!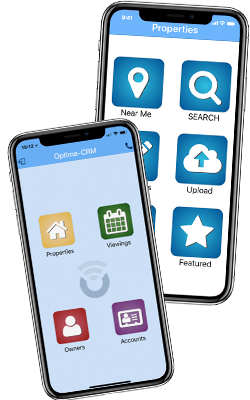 Control panels puts the user in full control without the need to navigate. All tools and information in one screen to interact with clients, follow up activities and much more!
Calendar dashboard with all the company's activities, personalisable and integrated with Google & Outlook Calendars
Activities manager: activities dashboard ideal for all users activities management
Clients control panel: graphical panel to qualify and interact with clients in real-time
Owners control panel: graphical panel to qualify and interact with clients in real-time
Drag & drop, colours, graphical indications, etc. are standard!
Calendar dashboard: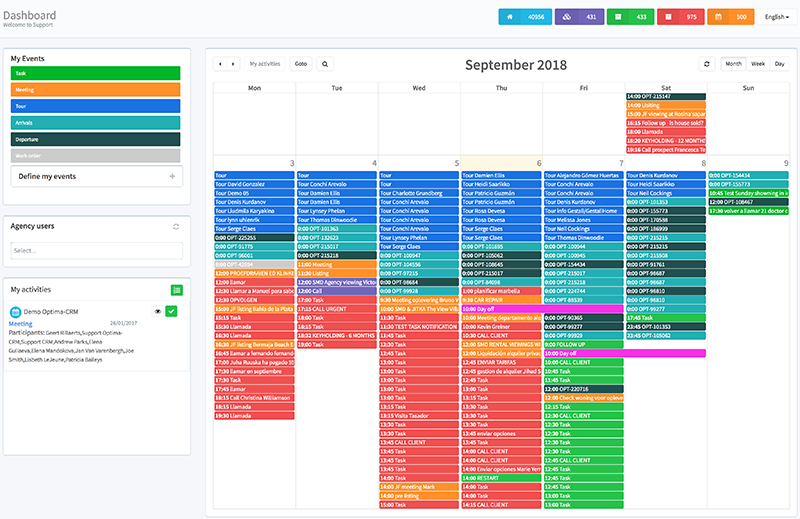 Integrating with the instrumental tools in your environment, make Optima-CRM a true central solution for the management of (all your) business.
Emails: bi-directional connection of the user's conventional email account into CRM for 100%, allowing to send, receive or reply to emails regardless from within CRM or outside CRM, synchronising emails and placing them on the relevant client records
Calendars: synchronisation with Google Calendar & Outlook Calendar
Factiva Dow Jones: real-time connection with the agency's Factiva account (to comply with money laundering prevention laws)
Mailchimp: synchronisation of clients/owners with the corresponding Mailchimp lists
Facebook Premium: auto-creation of leads forthcoming from Facebook (or other) campaigns, connected by middleware
Google Maps: all addresses managed in CRM + drawing on maps to define profiles of clients (areas of interest), search properties, assign areas to listing agents, etc.
Import of properties, clients, and many other data from any source
There are many other integrations made already or being built every day.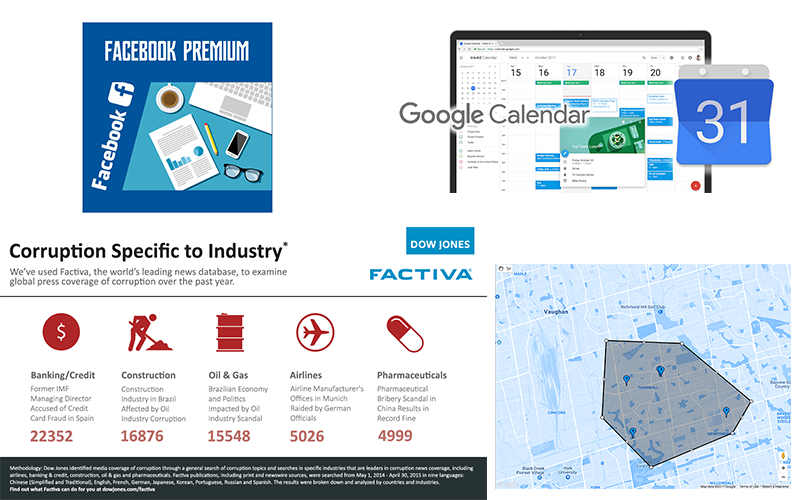 To benefit even more from the strongest Real Estate CRM, we built various extensions to enable businesses to venture out in very specific areas of commercialisation.
YoVendo: the "Online Agent" solution to expand property capturing reaching an untapped into market of 40% of vendors who are not willing to contract with a traditional agency to represent them in the sale of their property
Co-broking: international commercialisation solution for new construction projects in exclusivity (similar to Prime Invest, Altavista, Sotheby's, etc.)
Consult with us for further details if these topics are of interest to you!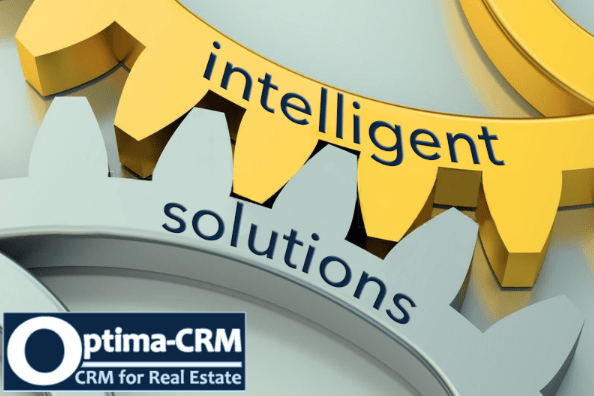 We take data security very serious. Here are just some measures taken to safeguard your most precious assets.
A series of authorisation roles to protect the agency's data (e.g. access to clients, contact information of owners, sales data, etc.)
Users access to CRM log
Log of deleted data for full transparency
Important data (e.g. properties, owners, clients, etc.) cannot be deleted but is archived, whereas the administrator continues to have access to restore or delete
Data integrity: all data is mirrored at the time of creation/update + 6 full database copies daily are made and stored in 2 physically separated data centres
Audit: any data update is recorded to create a complete picture of change history
Furthermore we handle all the legal aspects to protect data and reflect this clearly in the user licenses contract.

We offer the most flexible support possible, day after day, where we have a multi-cultural and multi-lingual team attending our clients.
System tickets & assistance 24 hours per day

Phone & email support in 6 languages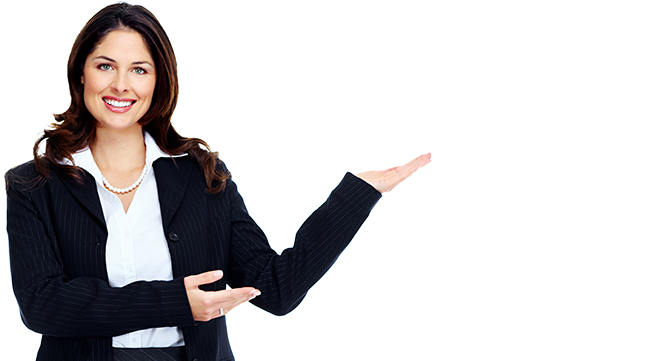 Having all your needs met with one central solution where all the experts you need are part of the same team, you not only gain in efficiency, but your bottom-line cost will significantly be reduced:
The most complete CRM for Real Estate available in advanced technologies
Design & creation of custom professional websites in advanced technologies
Dedicated and managed web & email hosting with 24/7 support
SEO: organic positioning of websites
SEM: creation & maintenance of campaigns for Google Ads, Facebook, Instagram
Creation of Landing Pages
Creation of original contents in various languages
Creation and management of email campaigns
Ask for more information about any of our services and how our all-in-one solutions can work best for you.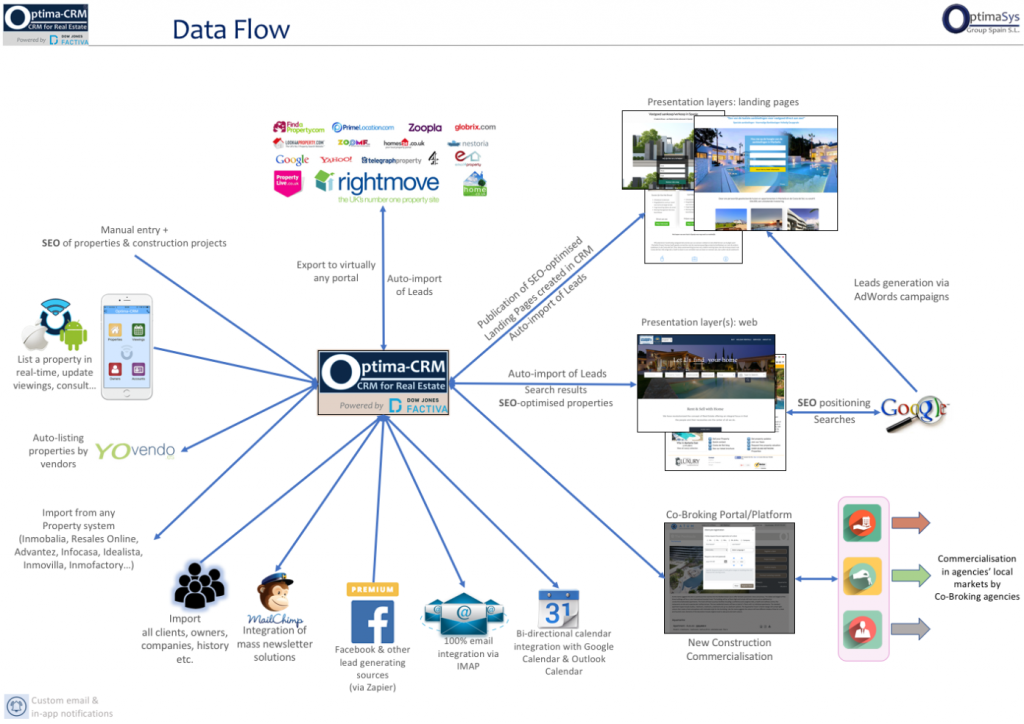 But we recommend you to SEE it for yourself...because SEEING IS BELIEVING: